"Oh my God! What should I do?" I mumble to myself with my hands on my head.
I remember how happy I was the day I received my appointment letter from CashKaro. I was on cloud nine. And with this new job, I had pledged to save every drop (almost) of my pay to enjoy a lavish vacation next year. But little did I know about the hurdles I will have to face after joining CashKaro and sacrifice so much. And I am pretty sure many of my other co-workers also feel the same! Here's how I have an emotional turmoil almost every day here:
1)      The hunger games
-          I open my 'content requirement' mail for today with a deep breath and dance with joy upon not seeing any post to be written on food. But when I have to, it is a torture. Because the only thing worse than not getting to eat your favourite food is seeing it all day long on your desktop in the form of pictures while searching for them to be put in the article. I do think about placing order and satisfying my craving but after seeing so much of heaven, I get confused as to whether I should order that veggie delight pizza or that cheeseburger, that yum dal makhani or that strawberry cake or maybe..
2)      The everyday Cash back offers
-          I am writing my article peacefully when I get a notification on intranet group chat that cash back for my favourite online store has been changed to 100% and this is what happens:
3)      The search for brand information leads to..
-          When I hop on to online shopping sites and look at their product range to write content, I realize how many trends I am not aware of. I realize how the cargo pants I just threw a month back are now in fashion and Oh wait! They are on 30% off. And this white lace top with bow sleeves too! And these shoes will make my feet look expensive! I will buy them all! Oh, wait! What?? My size is not available in any! The world seems cruel!

4)      The madness attack control
-          Because when I open my CashKaro account in office and see my savings after 3 months, I'm like:
But..But I keep calm!
5)      The mighty hope!
-          After getting addicted to coupons and cash back, purchasing something for a full price seems strange and not so wise! When I come across a stunning thing and see it has no offers, I wait. I add it in the 'save for later' basket. At least I can see it every day before I go to sleep. And maybe they will run an offer on it. Maybe I will find some cash lying on the road. I might discover some cash in an old pair of jeans pocket. Maybe CashKaro will rescue me again! And then after a week or month it does! And I shop! And the world looks better!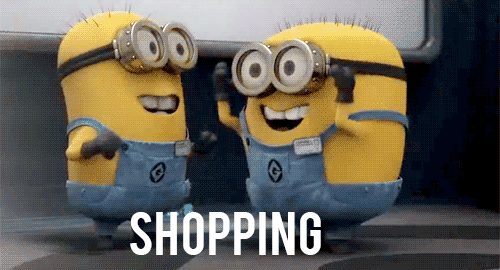 6)      The loving stares from my dad
-          With hard to resist offers, I don't even realize how much stuff I have ordered. When a parcel arrives, I sometimes have to think hard as to when I ordered that. And God forbid if all of those parcels arrive on a day when my dad is at home, it's a very emotional roller coaster ride. And the only answer I have to the questions raised by him is:
Yeah! These are real tough situations! But then life is hard and I will have to become stronger to resist all this. And, I have already become a bit better. Huff! I should get back to work now.
*Opens a client's website to read content.. What's this coming to the left side.. What? Is this true? The bracelet I have been stalking since 1 month is finally on off now! Moves hand to click on it..*